Elkin Lawn Garden and Property Management offers a 5-treatment process for turning your yard into the flush, dark green lawn that you have always wanted. Our 5-step process includes the proper treatment for each lawn at the right time of the year. A soil test will be required for all new clients to assist us in providing your lawn with the most needed products and allow us to pinpoint problem areas. We also provide insecticides and fungicides for our lawns upon request.
Treatment I (February-March)
This is a pelletized application that provides your lawn with a slow-release fertilizer that will promote early Spring growth creating a thick and dark green lawn that will serve as a weed resistance barrier. This application also includes a pre-emergent herbicide that will prevent many spring weeds such as crabgrass before germination. Lastly, this application will include a pelletized fast-acting lime which balances out the PH of the soil and maximizes the use of fertilizers.
Treatment II (March-April)
This is a liquid application that provides an excellent source of nitrogen for your lawn to increase its rich green look. This treatment also includes a control for common spring broadleaf weeds such as clover and chickweed.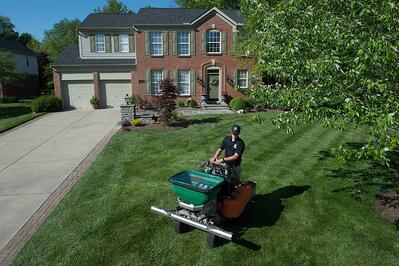 This is a chemical liquid application that will provide your lawn with iron and other nutrients that are needed to maintain a thick green lawn going into the Summer months. This application will also include an additional post-emergent broadleaf weed treatment. 
Treatment IV (July-August)
This is a post-emergent broadleaf spot-treatment application. Our professionals will also thoroughly inspect lawn for drought stress and diseases. 
Treatment V (September-November)
This application provides a granular fertilizer alongside other organic products. Lime is also re-applied to maximize the use of both natural and applied fertilizers. These are applied to help your lawn stay fresh and green throughout the dormant season. This also coincides with the recommended fall aeration and over-seeding. 
If you would like to find out more about our seasonal lawn treatments, or get an estimate on your yard, please call us at 336-258-8400 or email us here.
See Our Landscaping Project Gallery